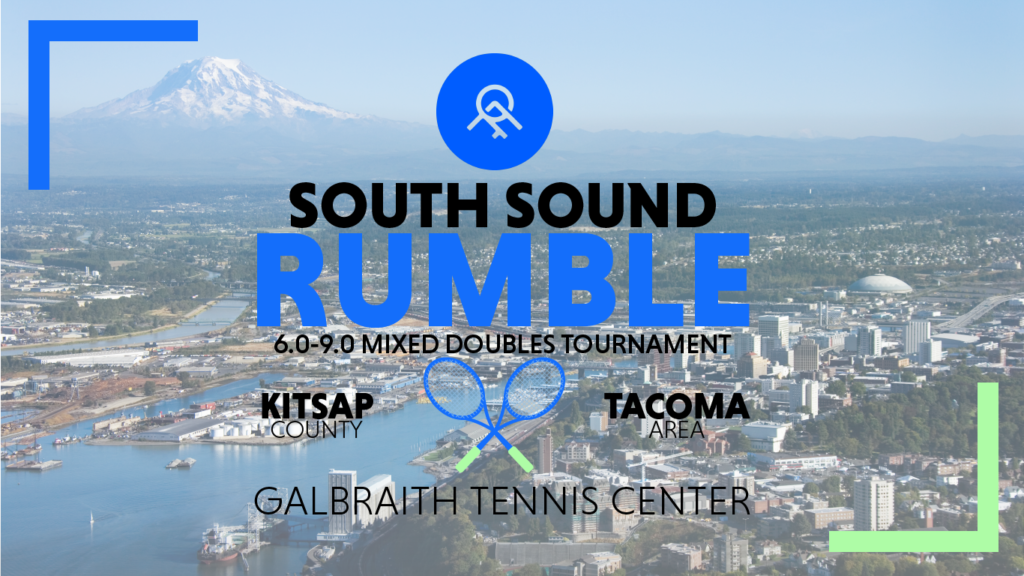 Join us for our first South Sound Rumble!
The South Sound Rumble is a 6.0 – 9.0 mixed doubles style tournament where Kitsap County players will take on Tacoma area players!
There is a $20 entry fee to play which includes court fees, balls, and beverages. We will also host a potluck/social – so bring your best dish to share!
Games will be the best 2 out of 3 set, where the 3rd set is a super tiebreak (10 points). The winner will be determined by the total number of matches won. If there is a tie, sets won. If there is a tie again, games won.
When: SATURDAY FEBRUARY 8th, 2019 – 6:00 – 9:00PM
Where:
Galbraith Tennis Center
1680 South Mildred Street
Tacoma, Washington
Who's Invited:
This event is open to the public, and you do not need to be a GTC or KTAC member to participate!
Rules for Entry:
– Only one entry is allowed per player
– Ratings are based on your NTRP rating
– You and your partner must be available to play the Challenger Match on February 2nd.
Challenger Match:
If each area has more than two teams entered in a category, we will host a tournament-style "challenger match" at KTAC & GTC on Saturday, February 2nd. You and your partner must be available to play on both February 2nd and February 8th. Challenger matches will be charged the applicable court rental rates and/or guest fees for each facility.
REGISTRATION:
*The last day to register is Monday, January 28th at 12pm.*
Kitsap area registration: https://bit.ly/2sciyS6
Tacoma area registration: https://bit.ly/2TnsZhg
For any questions please reach out to Nicole Wilson at nwilson@pnw.usta.com