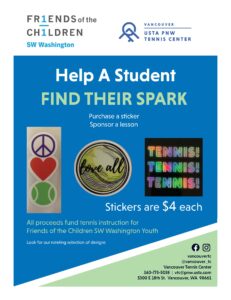 Friends of the Children – SW Washington is excited to partner with Vancouver Tennis Center and USTA PNW to help our students find their spark with tennis!  
Through this new partnership Friends of the Children youth will have access to tennis instruction at VTC through a scholarship program funded by the sale of tennis themed stickers.  
The mission of Friends of the Children-SW Washington (Friends-SW Washington) is to impact generational change by empowering youth who are facing the greatest obstacles through relationships with professional mentors—12+ years, no matter what. Friends of the Children proactively identifies youth, ages 4-6, who live with the intersecting pressures of poverty and complex trauma and pairs them with trained, salaried professional mentors (known as Friends) through high school graduation. 
To support this program, all you have to do is select and purchase stickers from our rotating array of original tennis designs for only $4 each. 
All proceeds will help pay for student tennis instruction at VTC.  The stickers are durable, weatherproof and perfect for adorning your water bottle, vehicle, laptop, etc…  Show your love of the game and share the gift of the play with area youth.
To purchase your sticker, simply stop at the front desk to choose your favorite sticker design (or two), which can be charged to your member account. Remember, new designs will be routinely introduced, so don't miss out on the first round of styles available starting March 1st
To learn more about Friends of the Children – SW Washington and how you can get involved, please watch our video, The Power of One or visit their  website.