We asked and you answered – thank you VTC for your support of the Arlene Clark Youth Scholarship program at VTC!
As of noon today, we have surpassed our $6,500 goal and are well on our way to providing more than 4 months of scholarship tennis lessons at VTC. Special thanks to Cal and Arlene Clark for their matching gift as well as to John Rudi & Thompson Metal Fab and Michele Rudi & Family for each matching this $1,000 match.
There is still time to make a gift and for every additional $1,700 raised, VTC is able to provide our 16 current scholarship kids with another month of on-court instruction. We hope you will join us today and make a difference in the lives of children who want a chance to get on the court.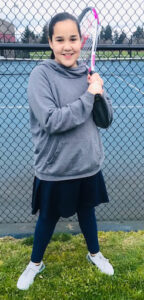 Children like current scholarship recipient, Stella.
12-year-old Stella dreamt of playing like a pro, but her parents couldn't afford lessons. Fortunately, Stella's mom, Renee, heard about VTC's program through a family friend whose son was playing tennis at the center.
The family was thrilled when Stella was awarded the scholarship, which went toward junior tennis lessons at VTC. "This gave Stella an amazing opportunity to do a sport that she loves, and opened a door for her that wouldn't have been available otherwise," says Renee. "It's been a huge blessing for our family."
Every dollar raised on this day has the potential to change a life and improve our community. I hope you will join us by simply, clicking here to make your donation to help support kids like Stella.
If you haven't already, please take five minutes to make a gift TODAY to ensure that financial hardship will never stop kids in our community from pursuing their tennis related interests.
Donation Matches & Challenges
Cal & Arlene Clark: 1:1 Matching Challenge
Thanks to a generous pledge from Cal and Arlene Clark, dollar for dollar, your donation to the Arlene Clark Youth Scholarship fund at VTC will be matched up to $1,000!
John Rudi & Thompson Metal Fab: 1,000 Match
This $1,000 match for the Arlene Clark Youth Scholarship program at Vancouver Tennis Center has been provided through the generosity of John Rudi at Thompson Metal Fab.
Michele Rudi Family: $1,000 Match
Michele Rudi and family (VTC Foundation Board Member) has generously provided a $1,000 match to support the Arlene Clark Youth Scholarship fund at Vancouver Tennis Center. Thank you Michele and family!