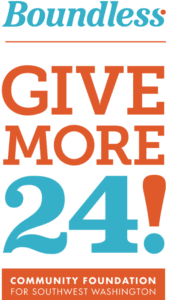 At VTC we are counting down the days to September 23rd and Give More 24! As part of our tennis community we need your help to make our campaign a success, and we've included a few easy ways that you can support us as we raise the funds needed to support the Arlene Clark Youth Scholarship Fund at VTC.
Make a Gift
On September 23rd, visit Give More 24 and make a donation to support youth scholarships at VTC. You will have 24 hours to make your donation, and all giving will end at 11:59PM on September 23rd.
Jump on Court
This year we are hosting a special 2-hour Women's Double Challenge from noon- 2pm. Click here to sign up free of cost and select the Sept 23rd date to secure your spot. Donations to support the youth scholarship fund can be made when you show up to play!
Share and share alike. Online days of giving are successful because of our own networks. Help us grow our network by sending this email to your network and ask your friends to do the same.
Be socially (media) active. Use your social media networks: post on Facebook, tweet about Give More 24!, and share your love for tennis! And Ask others to do the same.
Thank you in advance for your support!
Monica Baker
mbaker@pnw.usta.com
Questions? If you have any questions or would like more information, let us know.