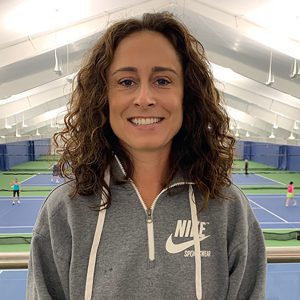 KASIA BOSLAUGH
VTC member since the fall of 2019.
Kasia played tennis as a child but hadn't played much after she moved to the Vancouver area about 15 years ago. After learning about VTC from another parent at the school attended by her children, Kasia decided to give Women's Day a try.
"It was so intimidating to walk into VTC that first time, but everyone was so nice, especially Pam Lagielski and the ladies at Women's Day. They reached out and made me feel welcome right away!"
After a few weeks, Kasia signed up for a membership and took her first lesson. "I'd enjoyed playing as a kid, but I'd never taken a lesson before. Now, I love them, and I take as many as I can!"
Primarily a singles player, Kasia credited Head Pro, Sanja Lemes, with helping her improve her technique, and Associate Head Tennis Pro, Tony Nelson with singles strategy.
She keeps a notes section in her phone and adds what she learns after each lesson. At the top is "calm down" a constant reminder from Sanja that is particularly helpful in the middle of a match.
Kasia recently won the Women's 3.5 division in the VTC Singles League which she recommends to all singles players. "I loved meeting new people to play with, and with the wide variety of players, I had to really think about strategy. After I've played someone, I make notes of my opponents' strengths and weaknesses so if I play them again, I already have a plan before I even step on court."
Kasia plays on several VTC league teams, including USTA and City League. She has even introduced her family to tennis – her son, Brooks, attends VTC summer camps and her husband, Tobin, plays as well.
---
We are so glad you decided to give VTC and Women's Day a try! Thank you for being our first Member Spotlight, we look forward to a lot more tennis adventures with you!